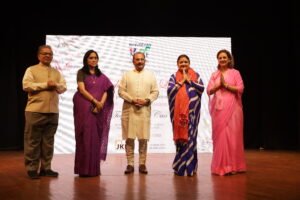 MFJCF dedicated to promote organ donation in Rajasthan illuminated the RANGAYAN,  Jawahar Kala Kendra, Jaipur with an inspiring event on 17th August evening. The occasion marked the culmination of the organ donation pakhwada, a two week awareness drive and celebrated a decade of MFJCF's unwavering   commitment to the cause.
The momentous Organ Donation Pakhwada, observed from August 3 to August 17 2023, was inaugurated by the esteemed Chief minister Ashok Gehlot via video conferencing, spanning the entirety of Rajasthan.
This event resonated with the message of organ donation, fostering a collective determination to save lives through organ transplants. A spectacular "Celebration of Life" event drew together a multitude of individuals passionate about the cause.
Dr. Sunil Shroff the visionary founder and managing trustee of MOHAN Foundation graced the occasion. Distinguished Guest of Honour included Smt. Mamta Bhupesh, Minister of Child and Women Welfare, Smt. Shubhra Singh, ACS Medical and Health Welfare and KL Swami, Transport Commissioner, who further enriched the programme.
Audience was enthralled by the portrayal of MFJCF's impactful journey and deeply moved by the touching story of Shreya, a hand transplant recipient. Amidst heartwarming applause, MFJCF honored steadfast supporters from various sectors including Medical Professionals, Para-medical staff and athletes, who triumphed in the World Transplant Games in Sydney. Convener MFJCF delivered a heartfelt vote of thanks, while Dr. Anita Hada masterfully guided the proceedings.