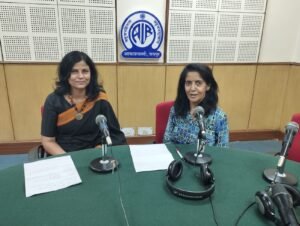 MOHAN Foundation Jaipur Citizen Forum and SBI sponsored a program on organ donation and transplant was broadcast on 100.3 AIR. AIR has almost 5000 live listeners via its mobile app, and via radio, it covers 70% area of Rajasthan accounting for more than 50,000 live listeners. The broadcast was on 21st October,2023 at 9:15 am till 9:45 am featured Mrs. Seema Sehajpal, Principal,Dharav High School Jaipur
She explained why Organ donation awareness is necessary to students and society. She touched the myths and general mindset regarding organ donation in mass. She passionately explained how as an educationist, she can contribute towards the noble cause of Organ donation further.
Towards the end, Mrs. Sehajpal encouraged the audience to talk about and pledge for the organ donation with their family and friends and support the cause and request the listeners to save the toll free number 1800-103-7100.